Nintendo Became More Valuable Just By Saying It Was Revealing NX


By Joe Skrebels

Hey, so maybe you heard that Nintendo will be showing off its new NX console later today. Apparently, so did shareholders, promptly sending Nintendo's market value up more than $1 billion overnight.
As reported by Bloomberg (as spotted by Gamespot), the simple announcement of the NX reveal sent share prices up 4.6%.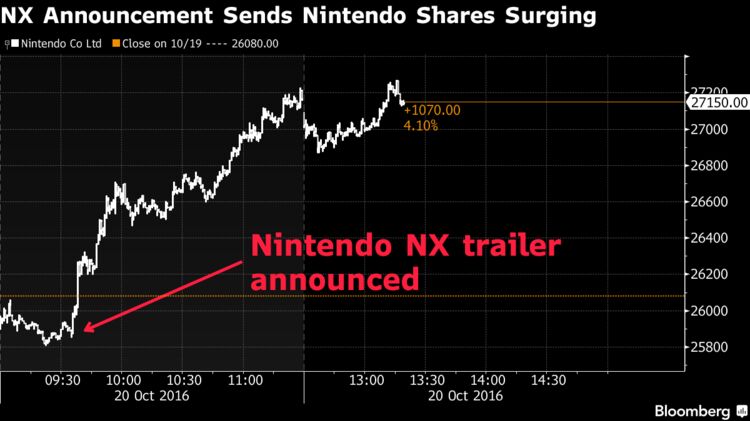 Nintendo's stock has risen by over 50% this year, thanks primarily to its first foray into developing and licensing mobile games, including Miitomo, Pokemon Go and Super Mario Run.
Earlier this year, its stock also dropped nearly 18% when investors realised the company wasn't directly responsible for Pokemon Go, but it remains in a strong position.
It remains to be seen how the market will react to the long-awaited NX reveal. The hardware – which is rumoured to be a handheld/home console hybrid – will be unveiled at least in part in a teaser video later today, at 7am Pacific / 10am Eastern / 3pm UK / 1am AEDT. It is due for release in March 2017.
Joe Skrebels is IGN's UK News Editor, and he can't concentrate today. Too excited. Follow him on Twitter.